1.) Appearing on the 10th Anniversary of the "American Music Awards" Melissa

joins Aretha Franklin and Mac Davis, as they play guest hosts for the evening. Later in the

program, Melissa sings her current hit single: "You should hear how she talks about you!"

Clearly enjoying her success, she looks "wonderful" as she struts across the stage. 1/83

2.) With the success of her current album, Melissa seems to be making the rounds as

she presents the "Song of the Year" at the 25th annual Grammy Awards.

Looking radiant as always, Melissa simply shines! 2/83

3.) In addition to her musical career, Melissa also tried her hand at "acting." Playing

the part of a substitute english teacher on the hit television show "Fame." As the

story unfolds, we learn that her character is unable to sing again, due to having

nodules on her vocal cords. However, being around the kids, and teaching in the

school has her wondering if she might be able to perform again. As we learn more

about her character, the story takes another turn, which provides us with an

opportunity to hear Melissa's wonderful voice. She performs an accappella version

of her song "Better Days" which displays her incredible depth as a performer.

Winning back her self esteem and ambition, Melissa's character takes to the stage

to perform an "exceptional" version of "City Nights."

It's a great moment from the past!

4.) Returning to the music, Melissa makes a very "striking" appearance on this particular

special devoted to the "Olympics." Singing "You should hear how she talks about you" Melissa simply

commands your attention! You'll absolutely love her fringed-torn skirt, which display her incredible

legs! And her vocal ability is truly fantastic! After her show-stopping number, she visits with

us for a minute, before she sings a song from "Chariots of Fire."

5.) Stopping by the set of "Good Morning America" Melissa visits with Joan Lunden, for a

delightful interview, centered around the release of her new album "Mathematics." She looks

wonderful, even for it being such a early morning hour. Their conversation touches upon many

things: the type of music on this new album, which has a decidedly different edge; and the recent

birth of her baby boy. Interesting interview!

6.) In terms of Melissa's appearances throughout the years, I'm sure this might come as a

bit of a surprise, but she was one of the guest vocalists at the "Live Aid" benefit designed to end

world hunger. Taking the microphone several times during finale' "We are the world" Melissa's

voice truly stands out among the rest.

7.) "Entertainment Tonight" spotlighted the "Women in Rock" by presenting interview segments

with a wide variety of artists: Vanity, Donna Summer, Tina Turner, Laura Branigan, E.G. Daily, and

even "Melissa Manchester!" Who has just filmed one of the sexiest videos being offered to promote

8.) Returning to the "American Music Awards" Melissa presents one of the honors for the evening.

9.) In a delightful moment from "Entertainment Tonight" Melissa is shown during rehearsals for

the touring company of "Song and Dance." With the birth of her baby, as inspiration, Melissa mentions

it was time to do something "new" within the realm of her career.

10.) Stopping by the set of "Hour Magazine" Melissa is truly delightful, as she talks about her

role in "Song and Dance." This time around, we gain more of an understanding of the part she is

playing in the show. Ironically, her appearance on that particular day is the 1st birthday of her

son, and they honor him with a special birthday cake, with "one" candle.

11.) Unfortunately, this next moment is already in progress, if only a by a few words, as Melissa

dresses up the "Tonight Show" with her stirring performance of "An Unexpected Song." Truly

a wonderful moment. Afterwards, she spends a delightful visit with Mr. Carson, which is interesting

because she tells of how her and Bette Midler first met.

12.) On a different note, Melissa presents an honor on the "Soul Train Music Awards." Joined

by a group of young kids, she remarks, jokingly: "Four kids and a MOM!" As always, she looks

13.) During a very insightful interview on "Good Morning America" Melissa talks about her

new album "Tribute" and the songs contained therein. They also present a portion of her brand

new video "Walk on by." Melissa looks radiant!

14.) As if setting the stage, this next moment is a "treasure." Unfortunately, I was only

able to capture a portion of her video "Walk on by."

15.) Beginning a phase of personal appearances designed to "ring" in the "New Year"

Melissa performs "Walk on by" from her new album "Tribute." She looks and sounds

absolutely wonderful! Another great performance! Returning later in the show,

Melissa honors Ella Fitzgerald by performing "Lady be good." She even "skats" during

the song! As always it's a treat watching Melissa perform!

16.) Performing another selection from her album, Melissa delivers a stirring rendition

of "La Vie En Rose" on the Pat Sajak Show. She looks wonderful!

17.) Looking absolutely "radiant" Melissa performs an "exceptional" set for those

in attendance at "The Boston Pops." Starting out with "La Vie En Rose" Melissa treats us

to a remarkable rendition of this time honored classic. Interestingly, they have added

a little extra at the beginning, which leads into the song perfectly. Taking a cue from her

favorites, she then performs "Lady be good" . . . with an even better "skat!" than what we

heard earlier. Slowing things down a bit, she sits atop the piano to perform her next

selection, whose title escapes me at the moment. Before she continues with her next selection,

Melissa talks for a little bit which is kind of different, if you've watched any of the

concerts from the Boston Pops. As she sits down at the piano, she plays a few bars of Gershwin,

before launching into an "exceptional" Gershwin medley. Afterwards, she returns to her own

catalog, to sing "Come in from the rain." Unfortunately, when this was originally recorded,

the video tape ran out of time; so the last few words are missing. I know when you see the

perfection in her voice, and her incredible presence on the screen, you'll realize that not

having this complete, really hurt.

After the "abrupt ending" of the previous moment, maybe I can redeem

myself, with the following two appearances, that I just uncovered
| | | |
| --- | --- | --- |
| | | |
18. Appearing on "The Tonight Show" Melissa sings a delightful rendition of the timeless

classic, "As time goes by!" These moments from the past, are simply "remarkable!"

As she visits with Johnny, they talk about many things!
19. Ending on a high note, Melissa performs a "spirited" version of her latest

hit song, "Energy" while on Solid Gold. Dressed in only two "brightly colored oversized

shirts" she not only hits all the right notes, but does an unbelievable 'leg kick!'
"Video Collection #2"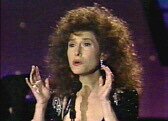 1.) Looking absolutely radiant, Melissa makes an "exceptional" appearance on "The Tonight
Show" with Johnny Carson. She begins by singing a "wonderful" and "highly spirited"
version of her latest offering from the "Tribute" album, "Lady be good." After dazzling
us with her incredible voice, she warms us up with her delightful personality,
as she visits with the late night host. After the break, she returns to
the stage once again, this time performing "La Vie En Rose" which is
nothing short of "excellent!" She simply commands your attention.


2.) As if the following musical number wasn't enough of a high point, this next
moment from "The Academy Awards" finds Melissa performing with James Ingram,
on the hit song: "After all." Once again, she looks absolutely radiant, and her voice
is in "exceptional" form! A truly fantastic moment!


3.) Joining the rest of the entertainers on hand, Melissa lends her incredible voice and
presence, to "Arista Records" 15th Anniversary Celebration. Stepping from the shadows,
she performs an "exceptional" rendition of her hit song: "Don't Cry Out Loud."

4.) Upon viewing this next moment, you'll instantly be reminded of Melissa's days, as a
backup singer for "Bette Midler." Everything is in place: the sassy attitude, the
exceptional delivery, and the "oh-so-short" mini-skirt! Without a doubt, Melissa is
in top form! Vamping her way through "Miracle in my soul" she stirs up the crowd, as
she struts across the stage, with only a little bit of her "slip" showing underneath!
I wasn't kidding about her skirt being really short! Throughout the evening's
festivities she also plays "hostess!" Which is really cute. Later in the show, the
lights dim, as she takes center stage to perform a remarkable version of
"La Vie En Rose." As the show draws to a close, Melissa takes everyone home
with an accappella version of her signature song: "Better days." Which creates
a stillness in the room, like none other. Everyone is captivated by her amazing
voice, but there's still one more moment to come! Taking her place at the
piano, she treats everyone to a rousing version of "Just you and I." Which is
absolutely fabulous! Not to be missed!


5.) Stopping by "The Tonight Show" with Johnny Carson, Melissa displays
her "incredible range" as she performs a splendid rendition of "Walk on by."
Afterwards, she shares a few minutes with the late night host. Melissa is

6.) Singing a "standard" from the past, Melissa joins those in attendance for
an "exceptional" celebration in honor of George Burns' 95th Birthday!
Looking radiant, Melissa is deeply touched and honored to be a part of the

7.) Returning to the "American Music Awards" Melissa presents one of the

8.) Appearing on the 20th Anniversary of the "Song Writers Hall of Fame"
Melissa performs a showstopping version of "Somewhere over the rainbow."
Which is nothing short of marvelous! Truly a shining moment!


9.) "Entertainment Tonight" caught up Melissa as she attended an


10.) Time has a way of slipping by, because Melissa next appearance happens
a year later, once again on the "American Music Awards."


11.) Setting the stage for her appearance on "Blossum" Melissa talks about her
upcoming guest starring role, on the popular television show. During this particular
interview from "Entertainment Tonight" she confesses that she had never watched
the show before, and so she had to ask alot of questions about "her" television family.

12.) Rarely seen in front of the camera, except in a musical setting, Melissa handles
her latest challenge with the greatest of ease. Whether it be singing or acting, she's a
natural, as you will see from her guest role on "Blossum." She looks beautiful, as always.
Her storyline, shown in flashbacks, centers around her desire to become a singer, which
meant that she would have to leave her family. As the present mixes with the past, we
are treated to a "excellent" episode.

13.) Making a special appearance on the "Crook and Chase" show, from the Nashville
Network, Melissa talks about her new album: "If my heart had wings." Rarely are we
treated to such an indepth moment, as this one turns out to be! She talks about the
type of music that she has recorded over the years and how they didn't necessarily
reflect her true self, although they were very successful. She goes on to comment
that she wrote all or most of the songs on her new album, and giving us a "preview"
she performs a "wonderful" rendition of the title song. She has never sounded
better. An absolutely fantastic moment!

14.) Covering every angle possible of Barbra Streisand's recent wedding,
"Entertainment Tonight" spotlights the "song" that she sang to Jim, which just so
happens to have been written by Melissa! How wonderful it is to see her again!


15.) Even though he is no longer with us, his memory will live in our hearts forever!
As all of his friends share a few of their thoughts, on the incredible talent, and extraordinary


16.) Although this next moment doesn't present the most flattering profile of Melissa,
this is the last appearance within my collection. Preparing to be a part of the stage
production of "Sweeney Todd" Melissa is shown on camera, very briefly, as she
mentions how thrilling it is to be a part of the show.


17.) On a final note, the cable channel "American Movie Classics" presented an
"exceptional" concert with Melissa, from the "Rainbow Room" in New York City.
Melissa looks absolutely "RADIANT!" She is simply "gorgeous!"

Throughout this wonderful concert, she performs so
many of the songs that have followed her through the years!

"Midnight Blue" "The house that love buildt"
"Through the eyes of love" and "Somewhere over the rainbow"


Welcoming her dear friend, Peabo Bryson to the stage, the two artists
perform a delightful rendition of "Whenever I call you friend." Afterwards,
Melissa leaves the stage for a moment, while he performs "Can you stop the rain."

Returning to the stage, Melissa joins him for two "exceptional" duets:
"A whole new world" and "Beauty and the Beast."

Touching upon some of the selections from her own catalog, Melissa closes
the show with a few more of her favorites: "Come in from the rain" "Lady be good"
and "Don't Cry Out Loud."

Truly a delightful evening!
After this particular collection was finished, I uncovered
for taking the time to read through these rather lengthy descriptions!
I know it seems rather "incredible" to believe!

All these moments from the past.
Moments that you might have missed recording.

And those that you have only heard about!


Throughout the years, I've shared many of these clips from my collection
with my friends, and they have always been astounded by all the appearances
that I was able to record. To ensure the highest quality possible, I use a "dual deck"
vcr when I'm sharing any of these moments from my collection.

I look forward to hearing from you!