"Bette"
The new album featuring the 'Bette' theme song

"Bless you child" and "Love TKO"

I absolutely "love" this album! We all have certain songs

that we "remember" - which touched our lives, at certain

points along the way. But for me, this particular album

will always be significant.

When Bette released this wonderful cd, I had just

left the one place, that I had called "home" for nearly

15 years. Unfortunately, I had reached a point where

'everything' was literally falling apart.

When a lucrative job that I had held for close to five years,

suddenly vanished as the company decided to close it's doors,

my life spiraled downward. Two unsuccessful jobs followed,

which left me "exhausted" "exasperated" and

"disillusioned" with everything.

My friends around me, were of little help - often causing

there to be, even more "confusion." Everything was up for

"contention." No matter how hard I tried to "keep everything

together" and "do what was expected of me" - as I had

always done in the past, it just wasn't enough. Eventually,

I found myself at the end of the road. I couldn't go on.

I placed all of my things into storage, and agreed

to join a friend of mine who owned a concession business

- in which he travels to the assorted fairs and festivals,

in the "four" state region. I had known him for the

better part of ten years, having worked for him every

August when he arrived in Lincoln for our

Packing some things into my van, I grabbed my dog,

Samson - and we were on our way to Tulsa, Oklahoma.

I remember feeling exceptionally "lost" upon my arrival.

Probably more so, because I had just left everything that I

had known for so many years. I remember thinking at

the time, I never would have dreamed that I'd ever

In a way, it was a alright to get away from everything,

and to be traveling hundreds of miles, from place to

place. Scanning the landscape as we drove along, it was

always nice to be "outdoors." I recall looking to the

furthest point on the horizon, thinking that my "life"

was somewhere "out there."

While I was in Tulsa, Bette released her brand new cd,

and I honestly must have played it a hundred times or

more! Each of the songs contained a phrase, or a

thought which "resonated" with me on a deeply personal

level because of the "loneliness" that I was feeling, the

"heartache" . . . and the "disappointment" of what my life

And life brings us tragedy

Everyone suffers some loss

Still we have faith in it

There's a reason that outweighs the cost

Without a doubt the one line that seemed to say

it all, came from "Bless you child."

"Sometimes an ending is the best place to start!"

Even though "Love TKO" was centered around a romantic

relationship that was coming to an end, the essence of

the song spoke to me . . .

Lookin' back over my years

I guess I shed some tears

Told myself time and time again

It takes a fool to lose twice

Always remember my friend

The world will change again

And you may have to come back

Through everywhere you've been

People turned their backs on you

"To cross this sea of loneliness, part this red river of pain."
Now I have nothing, so God give me strength

And if I'm strong, I might still break

And I don't have anything to share

That I won't throw away into the air

He was the light that I'd bless

He took away my last chance of happiness
We all have "many" journeys to follow, which will often

be troubling; where nothing is certain. But there is a "beacon

of light" . . . a "voice" that always renews my
For some reason, I was only able to find "one" review
Midler in fine form on "Bette"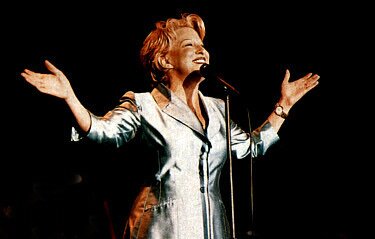 When Bette Midler's "The Divine Miss M" hit the music

world 28 years ago, it made such an impression that the

title has followed the singer to this day.

Yet since then, Midler has been known more

an an entertainer than a recording artist.

And for good reason. While her live shows

never fail to charm, only a few tracks since the 'Divine Miss M' have measured up to Midler's effusive charisma. Part of the trouble might

have been that Midler's albums were recorded principally with session musicians; "Bette"

features the same musical ensemble the star

took on her 1999 Miss Millennium tour.

While superstar producer Don Was captures that

road-polished, intimate vibe while minimizing the

| | |
| --- | --- |
| "Bette" concentrates on the fundamentals: strong songs played, sung and recorded | |

Considering how she makes them her own, it's remarkable

that Burt Bacharach and Elvis Costello's deliciously

melodramatic "God give me strength" and Kirsty

MacColl's deadpan Latin delight "In these shoes" weren't

actually written for Midler. Mixed with these relatively

( but not obvious ) soul favorites: Baby Washington's

"That's how heartaches are made," Teddy Pendergrass's "Love

TKO," the Manhattan's indelible "Shining Star."

The nouveau-disco showpiece "Bless you child" and peppy

'Mary Tyler Moore - esque" theme "Nobody else but you"

( from Midler's new TV series ) round out what is her most

cohesively exuberant effort since that attention getting

| | | |
| --- | --- | --- |
| | | |