It's a name that resonates throughout

But also when we think of "Hollywood"

many other images come to mind!
Greta Garbo, Gloria Swanson, and Mae West

" Way ahead of their time!"

"Those three women lead the way in the 20's for

Davis, Crawford, and Hepburn

in the following decades."
| | | | |
| --- | --- | --- | --- |
| | | | |
"Hollywood historians give the later three actresses credit for being

the 'strong women' types along with Barbara Stanwyck. But

they got it from Swanson and Garbo. People easily forget

'silent film' in considering film history." recalled Bette.

Of these talented individuals, I personally found

exceptionally fascinating!
Star status was a position she understood completely:

" I have decided that when I am a star,

I will be every inch and every moment a star!"

Even from the beginning, there was

" Gloria May Josephine Swanson "
" I feel sure that unborn babies pick their parents. They may spend

a whole lifetime trying to figure out the reasons for their choice,

but nothing in any human story is accidental. "

" This time, for instance, I obviously wanted a long, exciting life.

Millions of boys and girls made love in the summer of 1898, but

I waited for the right moment between a young man named

Joe Swanson and his wife, Adelaide, before I willed my way from

infinity, to the second floor of 341 Grace Street in Chicago.

I decided to be a girl. "
" I was born on March 27, 1899, under the sign of Aries. My maternal grandmother,

who was in attendance, leaned down to my pale, exhausted mother and said,

"She's beautiful." Then she turned to the doctor, and lowering her voice so that

her daughter wouldn't hear, asked, "But aren't her ears awfully large?" "

The birth of a child is always a blessing!
" I gave birth to an Angel, "

Sophie Frederica Alohilani

"The size of my ears, which had alarmed my grandmother Bertha Lew, the

day I was born, continued to worry my mother in the years to come.

My big blue eyes were one thing; my big ears were something else. So

for years, while all the other girls my age were wearing teeny tiny hair

ribbons, my mother made giant silk bows and poufs for me to hide my ears."
Between the ages of five and eight.
Gloria's career from the beginning has been a unique one.

She was first exposed to film, as an "extra" on a visit to

Essanay Studios, in New York City, at the age of

seventeen, and over the next few years had a number

of small parts. Then she weathered eight so-so pictures

at Triangle Studios, before being discovered by

Cecil B. De Mille. Who transformed her from a pretty

and spirited young actress, into a poised, well-groomed,
There is no doubt that the films she made for DeMille,

set the pace for the 1920's. Glamour and seduction went

hand in hand with inevitable retribution, but not before

the audience had received a heady vision of Swanson's

"Make it sleeveless, backless, skirtless ~

in short, go to the limit."

DeMille, with Swanson as his model, was more responsible

than anyone for making Hollywood films the vehicle for

exaggerated 'haute couture,' for extravagant grooming and

hair-styling, and for luxurious interior decoration. Gloria's

elegant body was seen swathed in the most extraordinary

garbs, which flowed down into trains around her feet, or

she appeared in stages of undress calculated to excite

her more sex-starved audiences.
By 1923, she had become so astronomically popular, only just behind

Mary Pickford, that she was able to dictate her own terms to

Paramount when they wanted to renew her contract.
She shrewdly varied her roles as much

as possible without loosing her identity,

making a trip to France for the lead

in "Madame Sans Gene" in 1924.

She brought back not only a smash

hit film, but her new husband,

Henri de la Falaise, a French marquis.
Upon returning to America, a brass band met her

at the station and she drove in an open car with the

Marquis and Louella Parsons, who had hurried to

met them at the depot. From station to station the

streets were lined and Gloria stood in the tonneau

throwing kisses on her subjects. The Marquis

modestly kept his hat on, and his head lowered.

When Gloria entered Grauman's Million Dollar

Theatre that night for "Madame Sans Genes' "

Los Angeles premiere, the audience rose and sang,

"Home Sweet Home." She was wearing a cloth-of-silver

gown and her diamonds, and had tears in her eyes. As

the band continued to play, the audience wouldn't

stop cheering and yelling, until the lights dimmed and
" A few minutes later the head usher came down the aisle and knelt at my feet,

telling me that the police couldn't handle the crowd anymore out front. They were

bringing a car around to the alley and wanted us to leave immediately through the

orchestra pit and backstage. So Henri and Mother and I sneaked out in the

darkness to the alley, where the car was waiting, and

the police escorted us on our slow drive home.

It was our first quiet moment in days, the first time I could really think.

Mother finally said, "Glory, you're so quiet. This should be the happiest

"My mother and I could look out the same window

without ever seeing the same thing."

I shook my head. "No, Mother," I said, "it's the saddest.

I'm just twenty-six. Where do I go from here?"

" I was thinking that every victory is also a defeat.

Nobody gets anything for nothing. "

As you will see later, she paid a price to be there that night.

| | | |
| --- | --- | --- |
| | | |
When she became a major star, in the 1920's, she bought the King

Gillette mansion and furnished it as a showplace. "The Second

woman in Hollywood to make a million, and the first to spend it,"

they said of her. The twenty-two room, Italian mansion stood

on Sunset Boulevard and Crescent Drive, a short distance

from the Beverly Hills Hotel.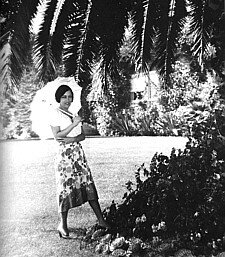 Shown here in 1928, Gloria is surrounded by acacias and palm

trees, in the garden of her Beverly Hills home.
If there is one star, of today, that seems to exhibit the style

and sophistication, once belonging to Gloria Swanson,

it would be "Demi Moore."

With a nod to the classics, Demi covered her crushed velvet dress with a

black wool crepe'. Crimson lips, ringlets, and a jeweled

headband accent her gorgeous face!

Whenever anything was written about Gloria, one topic always seemed

to come up! She was extremely concerned about the food we were

eating, and the quality of the water we drank.

For some reason, her concern was always "misunderstood."
" . . . I began having terrible stomach pains. I tried to ignore

them, but they didn't go away. They increased. I was absolutely

certain I had ulcers, and the more I worried, the worse the pain

got. Henri and Lois Wilson begged me to see a doctor, but the

only one I trusted was in Paris, and knowing me, all of our

friends were reluctant to suggest one. I was frantic, however, and

in serious pain. In no way could I start filming in that condition.

Finally I called Jane Grey, a friend who worked for

'Good Housekeeping' magazine, and she recommended a doctor

in Pasadena, who had been treating her mother. In fact, she swore

by him. The doctor's name was Henry G. Bieler, and his office was

so tiny and unassuming that I checked the address again before I

went in. There was no receptionist and no nurse, just a simple

room with a couple of chairs in it and a sign on the wall that said:
" NO SMOKING!"
Oh, no, I thought; had I driven all the way to Pasadena to get a sermon on the

evils of smoking? What nonsense. I had been smoking since I was fifteen.

The only time I ever quit was when I was pregnant.

Dr. Bieler was a little man, not much bigger than me. He looked more like a

bookkeeper than a physician: no white coat, no stethoscope, no smell of medicine

or disinfectant about him. I repeated what I had told him on the phone, that I feared

I had ulcers and that Miss Grey had recommended him to me. He seemed not to

pay much attention to what I said. He just kept staring at me. Then he sat

down at his desk and motioned for me to sit down opposite him.

At last he spoke: "Take off your earrings, please."

As I started to reach for my ears, I thought, 'This is ridiculous, and paused. I even

considered leaving by the door I had just entered. He gave me an instant look,

however, so I took off my earrings and put them in my purse. Still he just kept looking

at me. Then he reached into a desk drawer, and pulling out a long yellow pad and

"What did you have to eat last night?"

I was still dubious ~ very ~ about the earrings business, but at least his second

remark related to my stomach, where the pain was, so I hastened to be cooperative.

"Oh!" I said. "A shrimp cocktail."

"You didn't have any of those little things before you went to the table?"

"Oh yes, hors d'oeuvres. Well, let's see, I had some toasted almond, several green

olives wrapped in bacon, and a deviled egg."

He was writing everything down. When he got to the deviled eggs, he motioned

for me to stop until he could catch up. Half amused, I looked at the pad as he wrote.

"Deviled egg" wasn't two words. It was a list of all the ingredients: egg, mayonnaise,

mustard, paprika, Worcestershire sauce, chives.

"And a bit of pate' and a cheese puff," I said, in a deliberately speeded up tone in

order to convey to him that I was a busy woman and in no mood for games.

With no change of pace on his part, he added those things to the list.

"Did you drink?" he asked.

"Yes," I said. "Dubonnet. A sip."

"All right," he said, "now, back to the table. What kind of sauce did you

have on the shrimp cocktail?"

You have to guess, I wanted to say, but I controlled myself and said, "Something red."

He stopped and considered for a minute and then added many items to the list. His

inquisition continued, course by course, through the whole meal I had eaten the

night before with Henri and friends: soup, fish, chicken, the various accompanying

wines, the jelly with the bird, the sauce and the stuffing with the fish,

the peas, the fresh asparagus.

"Hollandaise sauce?" he interjected and I nodded, and he recorded it. "How about

dessert?" he asked, when we came to the end of the meal.
"I have an English cook," I said,

"I see," he said and wrote down all the

ingredients: eggs, flour, raspberry jam, sherry,

whipped cream, slivered almonds, and

"Nothing to drink after dinner?"
"Yes, champagne," I said, "one glass. And several cigarettes," I added, assuming that

that was what he had probably been trying to get out of me all along. It didn't

seem to interest him. By now he had covered three sheets of foolscap, and

he was scanning them like an accountant.

"I'll tell you what I want you to do," he said. "Close your eyes while I read off each

item I've recorded here on your chart. I want you to imagine a plate, empty at first,

and then as I call out these ingredients, I want you to visualize them piling up

on that plate. Or better still, imagine spooning them into a garbage pail."

He read the whole list slowly to me; waves of nausea built up inside of me,

so that I thought I was going to throw up. When he finished he asked

me calmly and matter-of-factly,

"Tell me, what animal, including a pig, would eat that combination of things in less than two hours?"

I was dumb struck. No one had ever spoken to me like that before. He smiled

quizzically at me for a full beat before he drove the nail home.

"Why do you treat your stomach like a garbage pail?"

We then exchanged a smile of complete trust. I knew this was the doctor

for me and he knew I was salvageable.

In medical school he had been ill himself, he told me, of asthma and kidney

problems. His professors recommended all the conventional treatments, but he

got steadily worse. At last he came across an out-of-print book on fasting.

Having tried everything else without success, he felt he had nothing to lose,

except the useless weight. As he grew noticeably thinner, his friends and professors

expressed concern. They told him he was killing himself. But he didn't feel awful,

and once he had lost sixty pounds, he also lost his asthma and his kidney problems.

Then he began to read some of the books on natural medicine written by traditional

American doctors who had practiced and studied in this country early in the century,

before doctors began to prescribe only the standard drugs and medicines produced

by the huge international pharmaceutical cartels. At that point, he became a

maverick and reverted to the good sense of a healthier age.

His words made perfect sense to me. In fact, I felt better just listening to him. At

the end of an hour and a half he told me I could put my earrings back on. Then

he prescribed a series of enemas and a modified fast of vegetable broth made of

zucchini, celery, and string beans, and told me come back in a week.

"May I ask why you had me take off my earrings?" I questioned him, before I left.

"Of course," he said. "I wanted to see your lobes. Long lobes indicate

healthy adrenals, and you certainly have them."
I had a few rough days as my body gradually eliminated

the poisons built up in it, and Henri protested loudly

that surely I was making myself ill, not well, but by the

time I went back to Dr. Bieler I felt like a different woman.

And by the time we went into the studio to start shooting

"Sadie" ~ my skin was glowing, my eyes were clear and

sparkling, and my nerves were calm. Dr. Bieler was a great

doctor because he was a great teacher.
He taught me simple things, such as:
There are not thousands of physical disorders, only one ~ toxemia.
We poison ourselves and one another. Pain is a divine signal from heaven, nature,

Mrs. God, Mother Nature, whatever it is, telling us to mend our ways, to stop

poisoning ourselves, to clean ourselves out. It we eat simple, natural food in

modest amounts, our wonderful bodies will heal themselves naturally. Each of

us is personally responsible for his own health. He said he wouldn't allow his

patients to take any medicine or drugs, not so much as an aspirin. To take

painkillers and treat symptoms, he said, is as insane as turning off an alarm

while the fire rages on unchecked.

For years, people I didn't know considered me an obsessive crank about food

and diet. I didn't care. I still don't, and the longer I live, the more people join

me in the certainty that your body is the direct result of what you eat as well as

what you don't eat. I know my body. I like it and I trust it. I don't stuff it full

of bad food, and I don't let surgeons start cutting into it the minute I have a

pain somewhere, because pain, as Hal Bieler told me 1927, is a divine signal, telling

you to take care of yourself with proper diet, not necessarily telling you or a doctor

who hardly knows you that some part of you has to be cut or numbed with drugs.

Health is just everyday sensible care of your body.
"Thank you" for allowing me to relate Gloria's story. Because I feel to a

large degree, she has been completely misunderstood, as to why she decided

to follow a healthier lifestyle.
Here's one more item, which will surprise you!
"I became a fanatic about healthy food in 1944, when it became common practice

in the United States to spray crops with insecticides, and as soon as I learned in

1951 that one U.S. Congressman, Representative James J. Delaney, was devoting

himself to having laws passed to stop the food we eat from being sprayed and manured

with harmful chemicals, I threw myself into supporting him in every way I could.

In 1952, I was the guest speaker at the Congressional Wives Club in Washington, on

a day when Bess Truman was the guest of honor, and instead of telling the six or seven

hundred women at the luncheon "all about Hollywood," as I'm sure they expected me

to do, I made them listen to a hundred horrifying facts about female hormones being

injected into chickens, and the poisoned condition of crops and soil all over our

country, and I begged them to go right home and force their husbands, by whatever

means they could bring to bear, to vote for the Delaney Amendment."
I found that interesting, considering that over the past few years, we have

seen quite a few well known celebrities testifying on Capitol Hill,

on behalf of various causes.

For more recent film-goers, Gloria's return to the screen in

will always remain a defining moment
"All those wonderful people out there in the dark."
Released in 1950, the picture starred

"William Holden, Gloria Swanson,

Nancy Olson, and Erich von Stroheim."

The story is so well know, that a

description is not necessary!

Gloria always denied that Norma Desmond, the

faded silent star, who lived in the past and became

demented by Hollywood's neglect, had anything

to do with her own inner process. But honestly,

how could she not help but identify to

some degree with the character?

Gloria, too, had known great stardom and great

failure. She had experienced deep disappointments

and neglect for many years, just like Norma, who

also considered herself 'every inch the star.'

They shared so many similarities, that it was

only fitting that Gloria received the honor of

For it she got her third Academy Award

nomination, but unfortunately, Judy Holliday

won for "Born Yesterday."
"We didn't need dialogue then.

"I am big! It's the pictures
"I'm ready for my closeup, Mr. DeMille."
The expected offers after "Sunset Boulevard" failed to come in,

and Paramount seemed little interested in her subsequent fortunes.

She was offered a test for "Darling, how could you,"

but proudly refused to test.

If they don't know what I can do by now,

why bother!" she exclaimed.
In the early seventies I starred in a full length

horror film, called "Killer Bees," made especially

for television. Although I read the script with

trepidation, I ended up thinking it was

terrific and said, "yes."

I played a German woman, the mother of Craig

Stevens. We shot the film in Hollywood and on

location in the beautiful Napa Valley, above

San Francisco. We saved the scenes with the

bees for last. The picture turned out to be a

classic in the genre, I think, and it is rerun

frequently in America and abroad.
People always ask me, "Weren't you terrified to

do those scenes with the bees?" I always want to

say, "Not as terrified as I was to have the lion put

his paw on my back in 1919, for "Male and Female." But instead, I explain that I was really worried only about my ears, so I put cotton in

them. Anyway, the bees were sluggish at the

start, when they put them all over me, and only

came alive as the lights warmed them up.

Furthermore, we were told that they had all

their stingers removed, but that is the kind of

information that's always hard to believe.
With Dolores Del Rio, a very rare 1970's shot.

~ Those eyes! That incredible face! ~

And she kept getting better!
If in her old age, she jumped off the deep

end proselytizing about "the poisons in

out food that are killing us," she managed

to remain a beloved if not, eccentric

She certainly never fit anyone's standard

of beauty. Surprisingly small at slightly

under five feet tall, she was a fashion

plate for over 60 years, and it seemed

that she would go on forever.
Greta Garbo once asked, "Gloria, how you wear me out.

Where do you get all this energy?"

Never say never, for if you live long enough, chances are you will not be able to

abide by the simplest of such injunctions. In 1919, for example, I promised my father

I would never fly in an airplane again. Although I waited until Daddy died to go back

on my word, I have flown hundreds of thousands of miles since then, in propeller

planes, in giant jets, and in one of the early successful helicopters, over Niagara Falls,

when I felt like a hummingbird. As a guest of the National Aeronautics and Space

Administration, I was even invited, by Wernher von Braun himself, to sit in one

of the first space capsules, before astronauts even flew in it.
In 1921, after two unsuccessful marriages, I told myself and

millions of fans that I would never marry again. I have had four

more husbands since then. In 1925, I said I would complete my

contract at Paramount and never make another picture, and

in 1951, after a successful comeback that threatened me with

typecasting for the rest of my life, I vowed I would never play

another aging movie queen. As recently as 1974, I made a

feature picture in Hollywood and played in it an aging

movie queen ~ myself, Gloria Swanson.
So it's no use saying never.
Never is a long, undependable time, and life is too full of
rich possibilities to have restrictions placed on it.
Gloria Swanson, at eighty-one, in full possession

of all her many strengths, and now the sole

survivor of a lifetime filled with such adventures

that no novelist could begin to imagine, tells

her own story ~ in her own words!
"These are the memoirs of a great survivor, a great actress, and

a beautiful woman ~ the Hollywood story for all time!"
Previously, she had vowed that it would never happen,

but through the years so much distortion had been

published about her, that she wanted to set the record straight, even if at times her own account didn't flatter

her image. "I'd rather have the truth in print, even if it's painful and abrasive," she told an interviewer in 1980,

"than lies and fantasies and suppositions."
"Sparkling . . . Movie Stars' memoirs don't get any better

than this," wrote Janet Maslin, of the New York Times. And

John Barkham has this to say: " 'Swanson on Swanson' is the

most revealing book ever written by an authentic movie queen."
In 1980 and 1981, Gloria did a cross-country promotional

tour for "Swanson on Swanson" that would have severely taxed the energies of someone a third of her age.

If you ever get the chance to read her book, it's absolutely fascinating!

One of the most touching stories within, occurs on the last two pages, where

Gloria is going over her checklist, of the things she wanted to talk about. In drawing

the book to a close, she returns to the moment in her life, when she felt the happiest ~

but yet, the greatest despair ~ when she would never be able to view her life the same

way, ever again. She begins by talking about her recent marriage to Henri, her

successful film career, and unfortunately, the baby she decided to not have.

In 1925, the Hays Office with its rigid censorship ruled Hollywood with an iron

fist. If she had Henri's baby, her career would be finished. The industry and the

public would both reject her, viewing her a morally unsound individual, unfit to

represent them. So she underwent an abortion of his baby to save her career,

and almost died from the secret operation.

"If the operation had gone as smoothly as I was assured it would, I would have

continued my life as usual later that same day and gone on living normally for years

to come, with twinges of guilt, of course, but probably never with any full realization

of my proper feelings about what I had done. However, the doctor bungled the

simple operation, and the next day I was unconscious with fever. Then for weeks

I lay between life and death in a Paris hospital, having nightmares about the

child I had killed, wishing I were dead myself."

With those words in mind, here's her final
With my children, Joseph,

"I am blessed at eighty-one with two daughters,

six grandchildren, and two great-grand children.

They are the joys of my life. In 1975, my son, Joseph,

died, much too soon, much too young. In 1979, one of

my four granddaughters died, much, much too soon,

much, much too young. They have been my

They are somehow and beautifully mixed,

I have only had intimations."
In 1966, my dear, sweet mother died. She was

her own woman, had married three times, had one

child, me, and had fulfilled herself. Every week

on Sunday, I had called her when we lived apart,

and every year on my birthday I sent her flowers.

I nursed her for the last two weeks of her life as

if she were my baby. Finally, as she lay in a

hospital bed in California, dying of a stroke from

a transfusion I hadn't wanted her to have, I kept

whispering in her ear, "Let go, my little mother,

let go." It was as simple as that. The moment

was there. I knew it. So I'm sure, did she.
There have to be patterns and reasons, but we can never

seem to figure them out logically or completely. If we

wait and search, however, we stumble from time to

time onto partial answers. For example, the greatest

regret of my life has always been that I didn't have

my baby, Henri's child, in 1925.

Nothing in the whole world is worth a baby, I realized as

soon as it was too late, and I never stopped blaming myself.
Then in 1979, Bill and I traveled to Japan, and at a Buddhist

temple at a place called Kyo San, or Honorable Mountain,

our guide and a Buddhist monk led us up through the most

timeless, peaceful landscape I have ever seen, asleep or awake;

a mountain forest of giant cedars, with a network of pathways

lacing the area, and ancient graves everywhere. At one point,

I noticed a tiny figure near the massive roots of one of the

cedars. Then another. Then I realized that there were

hundreds. With little cloth bibs around them.
" What are these? " I asked.

" Babies," the guide said. He crouched down for a closer look at one stone.

" Fifteen hundred twenty-five. This baby's life was ended before he was born."

Then he and the monk must have seen how deeply moved I was, for they showed

me how to pay respect in that place. They gave me a dipper of water and indicated that

I should pour it over the tiny stone figure. Then I burned the incense the monk

gave me, and left some grains of rice.

As we stood up, I was crying fresh tears out of a guilt I had carried for fifty-four years.

The guide and the monk exchanged some words, and then the guide said to me,

"We all choose our parents. We choose everything. No blame."
I believed him. The message came to me too directly

for me to disbelieve it. I believe it to this day. And

since that day on the Honorable Mountain, I look at

my children and their children, and their children

with respect and awe as well as love.

Things are not clear yet, not by a long shot, but they

are getting clearer than they were that day in the

summer of 1898 when I picked Joseph Swanson

and his wife, Adelaide, to be my parents.
Shortly before her death, Gloria said,

"I don't even want a tombstone ~ people will

remember me in their hearts or not at all."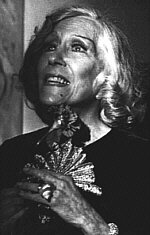 To the end, this ~ 'Lover of Life' ~ lived that "life" to the hilt.

But time was running out, as it must for all mortals. Gloria began to grow

unaccountably fatigued. And then, around the time of her eighty-fourth birthday,

came a heart attack. At Doctors Hospital - Cornell Medical Center, her celebrated

life force seemed at first to rally, and then at 4:45 a.m. on Monday, April 4th, 1983,

she passed away in her sleep.

The large headlines announcing her exit from this life would have pleased her.
"The New York Times" honored her on April 6th, with a special editorial entitled:
"THE GREATEST STAR OF THEM ALL."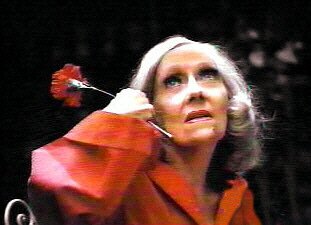 "Gloria Swanson, who died this week at the age of 84, was young when the movies

were young, and has to be mentioned in the same breath with Douglas Fairbanks,

Charlie Chaplin, Mary Pickford, and Rudolph Valentino. Unlike her peers, however,

she eclipsed the successes of her youth with one remarkable performance in

middle age. It's impossible to imagine any other actress playing the deluded

Norma Desmond and uttering that memorable last line,

"I'm ready for my close-up, Mr. DeMille."
Hordes of curiosity-seekers were trying to squeeze into the gowns,

sizes four and six; others were manhandling egret feathers and Lalique

perfume bottles. The glory that was Gloria Swanson was up for grabs, and

when the auction ended, the tattered gold-thread Salome scarf from the finale

of "Sunset Boulevard" had brought $8,000. But this was not the end of the

indomitable star who died in the spring of 1983.

The real Swanson treasures are stored away at the University of Texas, not to

be opened until the year 2000, presumably in deference to the family of

Joseph P. Kennedy, Sr., who might be embarrassed by the love letters

he wrote to Gloria when she was his mistress. "I don't want to cause

any embarrassment to anybody. But I feel that the letters should be

kept because they show a different side of a man who was an

important figure in American history."

But aside from the personal notoriety, there is no question, hers was

one of the important careers in film history. Her performances,

too little seen today, defy age, just as she did!
Be sure to tune in at a later date, when I'll be presenting

the stunning theatrical tribute to
"Gloria would have been thrilled,"