"B e t t e M i d l e r"
Still witty, still outrageous, still utterly divine!
With a coast - to - coast concert tour starting next month,

a new album and a starring role in one of next year's

hottest films, Bette Midler is - most definitely -
It's not that she hasn't already been

funny and charming. She has discussed

her theories regarding the food chain

( "Cooking leads to gardening." ), and how donating land to conservancies is the best thing you can do for the next generation ( "I have little bits all over the country that I'm saving for posterity." )

She's talked about her daughter ( "She's sixteen - oy. We spend a lot of
time on her. We're hoverers: We hover." ) and speculated
on how she herself is seen by said daughter ( "As a total nut-job." )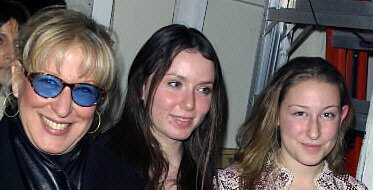 She has even performed - a capella, seated on her sofa with eyes half-closed

and a cup and saucer resting in her lap, but still gesturing, pointing, selling

it - a bittersweet, unrecorded song she's written about a stand-up comic

( "Whad-daya got if ya ain't got your health? / And seriously folks, I'm

killing myself." ). All very entertaining.

But it's the walk that does it. Dressed in a simple black top, a light skirt,

hoop earrings and tinted glasses, Bette Midler is leading me through the

"not really Art Deco but it's close" Fifth Avenue penthouse she shares

with her husband, Martin von Haselberg, and their daughter, Sophie.

We're bound for the great outdoors: a tour of her two-level garden

( the presumed result of von Haselberg's serious cooking habit ).

But before admiring the mint

and chives, there's the walk to appreciate: a singular strut negotiated on black Prada pumps, purposeful yet dainty, and altogether unmistakable. She pushes a door open, and click-clacks into the sunshine - all five-foot-two of her. You want to applaud.

"We have our sweet peas," Midler is saying, indicating as much

with an outstretched arm. "We have our birches. We have our dead

hydrangeas. Ah . . . my compost," she adds, tenderly. "I'm very

Back inside, Midler reluctantly offers up some decor details.

"A lot of this is Josef Hoffman furniture," she says. "But the best

thing about this apartment is that it has light. If I didn't see

the sky, I don't know what I'd do."

Wait, is that another staircase, going down? It is.

"I'm so embarrassed. I'm so embarrassed. Yes, it's a triplex.

After a relatively quiet period, Midler, 57, is working hard

again - no resting on the laurels of four Grammys, three

Emmys, two Oscar nominations and a Tony.
Next month, she begins a new concert tour, which she calls her

"I'm Not Retiring And You Can't Make Me" gig. She's also

collaborated with her old accompanist, Barry Manilow, on

Bette Midler Sings the Rosemary Clooney Songbook, a tribute

album just out from Columbia Records. To top it off, she's

filming a remake of The Stepford Wives with Nicole Kidman,

due next year ( "This one's a comedy," she says. "I have high

It all smacks of synergy, but Midler says there's no grand

design; she is simply happy to be making movies again, happy

to be "getting back to my old thing" - the stage - and,

especially, happy not to be doing television anymore. Doing

Bette, which ran for 18 episodes on CBS in 2000 before being

deep-sixed, was, she says, "unbearable."
| | |
| --- | --- |
| | "You have to be funny every single week; if you aren't, you're dead, you are just plain dead." she says, seated again in her bright and airy living room. In front of us are tea and cookies, behind us Central Park and, yes, a great deal of sky. |
"It was my own fault," she says of the show's ultimate demise. "If I hadn't

gone on David Lettermen and said that I was a dung beetle pushing a heap

of poop up the mountain, I'm sure I'd still be on the air, even with my crummy

ratings. But I just couldn't keep my mouth shut.

Bette got mixed reviews, endured a wholesale change of cast - and coast

before the end finally came. "I was so happy," Midler says. "I was terribly

relieved. And then it hit me that I had had this big flop. So I sank. I closed

a lot of doors, said good-bye to a lot of people. That old model - me

as a production executive - didn't seem to be working."

Hollywood, she says, underwent an entire generational change in the early

Nineties. "It was almost overnight, and it was severe. People you had been

working with for fifteen years were suddenly all gone. And the new people

didn't want to see those old familiar faces anymore. So here I am, sort of

starting up again - sort of on my own terms."

Midler's original start-up was in Hawaii, where she was raised; her father

was a house painter for the U.S. Navy. ( "When I came to New York, I

said, 'What's wrong? It's gray," she laughs. )

In 1965, when she was 19, a bit part in the film Hawaii her to Hollywood;

the next year, a role in Fiddler on the Roof brought her to Broadway. Soon

enough, she was delighting the gay clientele of the Continental Baths in New

York as a flamboyant chanteuse, backed by the equally unknown Manilow.

Her early records, beginning in 1972 with The Divine Miss M, were winningly

retro, drawing on the Andrews Sisters - era hit parade, on girl groups and

show tunes. They - along with her over-the-top live performances - established

her as a cult star. in the years that followed, Milder toned it down enough

to enter the mainstream, becoming a talk-show favorite, an Oscar nominated

actress ( The Rose, 1979 ), an almost - has - been ( Jinxed, 1982 ) and a movie

star for Disney ( Down and Out in Beverly Hills, Outrageous Fortune, Ruthless

People ). More films, good and bad, followed - including Beaches, that mother

of all chick flicks. So did the monster ( perhaps in more than one sense ) hit

"The Wind Beneath My Wings." "That song," she says, still bemused by

its pervasive popularity, "put me into some kind of strange place where

I'm standing all by myself."

Apart from a Divine Miss Millennium tour in 2000, this is Midler's first time

out on the road since the 1993-94 Experience the Divine tour, when she sold

out a remarkable 30 nights at Radio City Music Hall in New York. "This

time I'm working with horns," she says. "I was gonna call the show

Kiss My Brass, but then I thought people would expect a really big band, which

I don't have. But I've never taken horns on the road before, and I'm excited

to see if I can sing louder than they can."

Don't be surprised if she does. After more than three

decades, Midler has had a lot of practice. "It's very curious

to be this old," she says. "I've never been this old. I kind of don't dislike it." In any event, she certainly doesn't feel any trepidation about hitting the road again. "Being on the stage and singing and telling jokes, that's second nature to me," she says. "The actual putting the thing together is difficult. But we've been working on this for a long time, so maybe this time I won't feel so terrified. And if I do,there's always Klonopin."

One thing is clear: Midler has the kind of star quality that enables her to weather changing audiences, tastes and trends. How does she explain her enduring appeal? "When I started, I think people were relieved to find me, because I didn't say, 'I'm gonna do one kind of music,'" she explains. "I was outrageous and bawdy, and that was a great relief too - because people could go to and still enjoy themselves in the old way."

"Then, when I started making pictures, that gave me a legitimacy that a lot of

people my age didn't have - people who were recording but didn't cross over into

movies. And then I resurrected myself as a comedienne."

So where does she fit in?

"You tell me," she says, rubbing her palms together. "Where am I?"

Well, maybe the only real constant is the personality? "I think that's true. If

you wanted to say the personality has a place in the pop world, I think that's

Still: which talent - singing, dancing, acting - gives her the greatest satisfaction?

"I really like being funny," Midler says without hesitation. "I really like

That inclination, as it turns out, is due at least in part to her husband. Midler met

Martin von Haselberg, then a commodities trader / performance artist ( stage name:

"Harry Kipper" ), in 1982; their first date was two years later. She was at a

low point personally and professionally, with no idea of what she wanted to do with

her life. Von Haselberg, she has said, helped her hone - and appreciate - her gift for comedy. The two fell in love, and were married in Las Vegas two months later -

appropriately enough, by an Elvis impersonator. Their daughter, Sophie, was born

three years later in 1987. "Her arrival meant we became a family," says Midler.

"It's been quite a ride."

Midler retrieves a photo album she and von Haselberg put together for their

daughter, which chronicles the couple's recent trip to Europe. The pictures are

typical of any Grand Tour, with requisite shots of the two grinning at outdoor

cafes' and posing next to statuary. However, they're accompanied by some very

funny rhyming verse, hand-written by Midler for Sophie's amusement. "We like

culture, but my husband likes it in small doses," she says. "Mostly, we like to eat,

and drink wine. A lot of our travels are based on, 'What can we eat when

At home, the family invariably eats together. "We go to a lot of restaurants,"

Midler says. "When you're in your twenties, you go to rock shows; when you're

in your thirties, you go to dinner. It starts, and that's it; you just keep on going."

Still, they also try to eat in occasionally - in part because both von Haselberg
| | |
| --- | --- |
| | "We've sat down to dinner almost every single night of my daughter's life," she say. "I think that's really good for a kid. You find out what they did, who their friends are, what they're talking about, who they're listening to. All the important stuff." |
When she isn't eating, Midler likes to hear live music, go to the theater and read.

She devotes a few hours a week to her role as founder of the New York

Restoration Project, which cleans up parks and abandoned public places. Oh,

she likes to go on drives. "We driiiive!" she trills. "My husband loves to drive!

We go to farm country. We bought some land, but we didn't build, because

I was too depressed to build after 9/11. So we visit our land: We sit. We watch

the birds. We check for ticks."

Her downtime when she's touring is not quite as bucolic. After she performs, she

like to unwind with a couple glasses of pink champagne. "Then I go home and I

crash," she says. "On the road, there's nothing else to do. I mean, you can get

loaded. You can play chess. You can play poker. You can't get laid." She

leans forward, finger-tips together. "The women's version of this job is really

different from the men's. We don't have the capacity for alcohol and drugs that

men do. And you also can't pick people up the way men do, you just can't do it!

I did a Behind the Music, and it was the dullest one they ever did. I think what

happened to me was that I had a broken fingernail."

Still, to her fiercely devoted fans, Midler is anything but dull. So just who is her

public, anyway? For the first time, she seems a little unsettled. "I actually don't

know," she says finally. "I think it's pretty . . . I don't know how to say this

without insulting some demographic."

"There's the public the marketers really pay attention to, and then there's the

rest of us," she says. "I think people over thirty are getting the shaft. But I go

out in the street and I see real people doing real things. They go to the store,

they buy their peanuts. It's like the difference between MTV and Mister Rogers.

You don't want to be on MTV - time all the time. You don't want to spend

your whole life overcaffeniated. Do you?"
Perhaps it's this kind of attitude - sassy,

street-smart, pragmatic - that has made Midler such an enduring star. And even if she's been worried in the past about her future, the same can't be said of her fans. "I've had bad patches," she says. "But I don't have enough of them to get the major sympathy vote. I get, like, 'Oh, she'll pull through - she'll be okay.'" She sighs, and gives me a mock-crestfallen look. "The public, they don't really worry about me. They know I'm a survivor."